Using the best LED Grow Lights is essential components of indoor hydroponics systems for the plants to thrive. There is a huge demand for best LED grow lights which is a reason there are hundreds of thousands of sellers competing and leading for improvement.
LED Grow Lights
---
A perfect grow light is the light that can replace sun and not just to illuminate your growing space. Best LED grow lights stimulate sunlight and photosynthesis and provide healthier crops. LED grow lights are gaining popularity in the last several decades because of its energy efficiency, low price point, light output, quality growing results, and perfect design.
There are other types of grow lights too that you can get, including Metal Halides, High-Pressure Sodium bulbs, as well as CFL lights and tubes.
Even NASA has been studying LED grow lights for decades, they are a relatively new horticultural product. LEDs grow lights can be placed closer to plants in indoor growing system without a chance of burning leaves, because they are cooler.
---
Features to Look For in The Best LED Grow Lights
We all know that using led grow lights bring benefits, but when it comes to choosing the right led grow lights product can be time consuming. Here a few of the main features you should consider when looking for led grow lights.
Quality Build & Materials
High-Class Semiconductor Chip
Full Spectrum Light
Proper Cooling System
Don't Buy Cheap
Brand Reputation
What Are The Best LED Grow Lights for 2020?
Finding LED grow light for your indoor garden can be quite a tricky task, and in this post we are presenting you the Best LED grow lights to save you time and help you to narrow down your choice.
Spider Farmer SF-1000 LED Grow Light Use with Samsung LM301B LEDs
Founded in 2015, Spider Farmer have developed high quality products and has a great customer service. Spider Farmer SF-1000 LED Grow Light uses Samsung LM301B diodes, which provide the highest light output led currently on the market.
This is a fan-less grow light so no power is wasted on inefficient drivers or fans and these SAMSUNG Diodes enable light to boast an efficacy of 2.7 micromoles per joule. Excellent full spectrum – white, blue, red and IR. This growing lights have a dimming knob and light switch. A single light can be adjusted the light intensity at liberty.
The update aluminum board is thick and sturdy and it doesn't put out a tremendous amount of heat, high-quality protective covers for cable.
This is one of the most efficient lights in the market, that can deliver 50% higher yields with low energy and performs well to distribute the better light.
Pros:
Highly efficient grow light for a small space like a 2×2 feet area
Secure design with waterproof and electric shock proof parts
Noise-free operation
No assembly required
Cons:
The brightness can't be controlled
---
VIPARSPECTRA UL Certified 300W LED Grow Light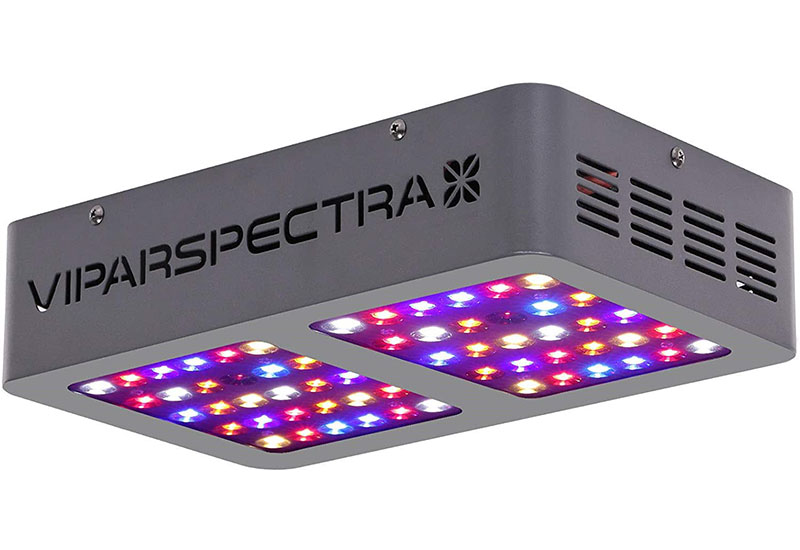 VIPARSPECTRA UL Certified 300W LED Grow Light is a budget-friendly LED grow light built with fire-resistant reflectors. VIPARSPECTRA is the number 1 brand that sells LED grow lights on the Amazon. This model uses 60 pieces of LED bulbs with a lifespan that ranges from 50,000 to 100,000 hours.
VIPARSPECTRA LED grow lights are designed to provide high levels of PAR ideal for indoor horticulture plants from peppers to plants. We customized our light spectrum to optimize plant growth and increase yields while consuming less energy and reducing operating costs compared with traditional horticulture technologies.
VIPARSPECTRA is recognized as the most durable LED grow lights on the market. The reflector design increase PAR output by 50% and the daisy chain feature to use multiple lights together.
Pros:
It's very affordable which is very convenient for the newcomers and beginners.
The grow light doesn't consume too much energy which means lower utility bills and less unwanted attention from the authorities.
Full spectrum and high intensity. Comparable to natural sunlight.
3 separate light options that allow you to customize your lighting conditions according to the type of your plants.
3-year warranty that shows how confident the company is about their product.
You can daisy-chain more of these to over larger area.
Cons:
This grow light I more suitable for the beginners because of its limitations. If you are a larger scale grower you might want something better and bigger.
---
King Plus 1200w LED Grow Light Full Spectrum
The King 1200W is a newly launched LED grow light with full-spectrum layout. The company is committed to developing the most efficient and energy-saving LED grow light, which can effectively promote plant growth and greatly increase your yield. The optimal full spectrum provides plants with everything they desire in the natural sunlight.
The King 1200W LED grow light uses 6W high quality LED lighting source with a lifespan is over 50,000 hours, high lighting effect and an energy saving mode. In order to improve the lifespan of the LEDs, in every light there are four big fans and a aluminum heat-sink.
KingLED, the company behind this LED light, is based out of China and manufactures some of the best LED grow lights for growing.
Pros:
Comes with the most effective cooling system
Provides full-spectrum lighting
Blue, yellow, red, white, UV, and IR lights that mimic natural sunlight
Long lifespan
Easy to install and use
10-watt chips
Cons:
Some of the lights are not dimmable
---
BESTVA DC Series 2000W LED Grow Light Full Spectrum Grow Lamp for Greenhouse
According to the manufacture, the Bestva 2000W will last at least a 100K hours and comes equipped with 200 pieces of LED bulbs which are 10W each. This LED grow light from Bestva uses a dual LED chips and when switched on, they emit intense lights perfect for beginners and for indoor plants.
BESTVA DC Series 2000W device is designed to give you a full spectrum light functionality more than ten different LED light installation. Each product comes with a hanging kit, a power cord, an adjustable rope, grow room glasses, and a three-year warranty.
This 2000 watt led grow light is a perfect lights especially if you are on a budget. The Bestva 2000W grow light is energy efficiency, affordable, it has a low heat output and it is best for intermediate to advanced growers with knowledge of light spectrum.
Pros:
An Affordable Grow Light
Dual Chip Technology
Highly Energy Efficient.
Can be controlled using the timer.
A well-balanced ratio of Red and Blue light.
Capable of keeping the well-balanced temperature inside grow space.
Tremendous customer support.
Cons:
Not waterproof
It's not daisy chainable
---
HLG 550 V2 Quantum Board LED Grow Light
The HLG 550 LED grow light is designed and build from Horticulture Lighting Group and set a new standard and distinguish itself from the old LED fixtures with blue and purple lights.
The LED boards used by HLG is using the white light technology with a full-color spectrum with more green and yellow light which are invisible to the eye. This way the lights stimulate the photosynthesis process of the crops.
There are no any cooling fans in this LED grow light and the board is still one of the coolest LED grow light in the market.
The HLG 550 LED grow light can cover a relatively large area. It can be used to provide replacement light for growing leafy greens in a six foot by six foot area or to support flowering plants in a four foot to four foot area.

Pros:
Sleek and bright light
Saves power compared to HPS/HID
Super high-quality build
Great quality and efficiency
Samsung LEDs
Super lightweight
Cons:
There is no cover for the LED boards
Not waterproof
---