Hydroponic Growing Systems help gardeners grow plants without soil. One of the main advantages of hydroponics is that the you are in total control of the growing environment and the growing conditions you provide.
What is a Hydroponic Growing System?
---
One of the first and most important decisions you have to take as a farmer going towards hydroponics is which hydroponics system you will use. Hydroponically grown plants are using only water and nutrients instead of soil.
The hydroponics technique you use to grow your plants is called a hydroponics system or hydroponics growing system. There are slightly differences between each technique, but in general most of them use timers, pumps and growing medium and based on your particular gardening applications and crop varieties, some hydroponic systems are better than others.
The hydroponic systems can be divided into 6 main groups. Let's look into each works and the hydroponics kits for each hydroponic growing system.
---
Best 6 Hydroponic Growing Systems
Aeroponics – Hydroponics System
---
Plants are usually suspended on top of a reservoir, in a typical aeroponic system, within a tightly sealed container. A sprinkler system and a pump creates vapors out of a solution rich in nutrients and sprays the result in the reservoir, engulfing the dangling plant roots.
Advantages of using Aeroponic hydroponics growing systems
Fast plant growth
Easy system maintenance
Less need for nutrients and water
Plants can be moved around without too much effort
Requires little space
Disadvantages of using Aeroponic hydroponics systems
Dependence on the system
Technical knowledge required
Regular cleaning of the root chamber
High cost
Recommended Aeroponics Systems
Rainforest 66
Great for medium to large plants
Vortex Sprayer works to provide oxygen to nutrient solution
Includes 17-Gallon reservoir with lid, sprayer, 6 lid inserts, plastic cups, liners, caps, and Flora kit
AeroFlo 2
60 sites for serious aeroponic growing
Excellent oxygen/water/nutrients ratio
complete w/ 36 net cups, pump, plumbing and fittings, coco inserts, nutrient solution, and leg stands
Aeroponic Cloning Machine
Includes 25 sites, reservoir w/lid, spray with misters, 317GPH pump and inserts
13 spray head for full coverage
Organic – no need for growth hormone or chemicals
*Photos: Amazon
Deepwater Culture (DWC) – Hydroponics System
---
Deep water culture (DWC) is a hydroponic method of plant production by means of suspending the plant roots in a solution of nutrient-rich, oxygenated water. Also known as raft/pond or float systems, this method uses floating rafts to suspend plant roots into a pond of water often 8–12 inches deep.
Advantages of using Deep Water Culture hydroponics growing systems
Simpler setup and easy to make at home
No Nutrient Pump needed
Reliable and extremely low-maintenance
Recirculating, so less wasted inputs
Disadvantages of using Deep Water Culture hydroponics systems
Risk of root rot if not cleaned regularly
Need frequent refilling to keep the reservoir full
Does not work well for large plants
Slower growth rate
Recommended DWC Hydroponic Systems
Aquabuckets DWC Hydroponic System
4 site, 5 buckets, with mixing cell and 200 mesh filter
Constant, recirculating oxygenated water provides a good mix of nutrients, CF and stabilizes pH levels
Made from high quality material, all parts and fittings needed are included
Deep Water Culture Hydroponic Bubbler Bucket Kit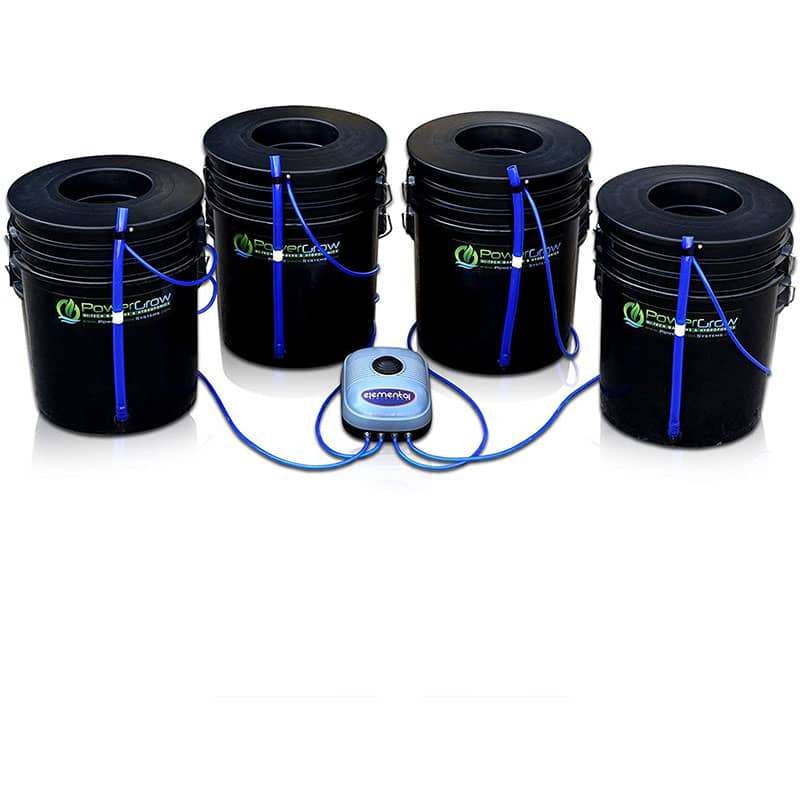 Easy to use, set up, and maintain
Allows you to grow 8 different plants in one system
Deep water kit includes quality pump, air lines, 8 air stones, 6″ basket lids, and 8 5-gallon buckets
DIY Hydroponic System Kit
Simple design, made with eco-friendly materials
11 pods allow you to grow up to 11 plants at once
Great for transplant, cloning, propagation, and other indoor hydroponic growing
*Photos: Amazon
Drip System – Hydroponics System
---
Drip Growing System is similar to the drip irrigation and it is a type of micro-irrigation system that has the potential to save water and nutrients by allowing water to drip slowly to the roots of plants, either from above the soil surface or buried below the surface.
Advantages of using Drip Systems
High level of control over feeding and watering schedule
Less likely to break
Sufficient Oxygen Flow
Relatively cheap
Disadvantages of using Drip Systems
May be overkill for a smaller setup
Prone to Clogging
Prone to algae growth
Requires regular cleaning
High amount of waste
Recommended Drip Systems
EcoGrower Drip Hydroponic System
Ability to grow large plants
Spider drip system is air driven
Complete kit includes 17-Gallon reservoir, spider drip system, pumping column, lid and inserts, net cups, CocoTek liners, air pump, Flora nutrients, and clay pebbles
Waterfarm Complete Kit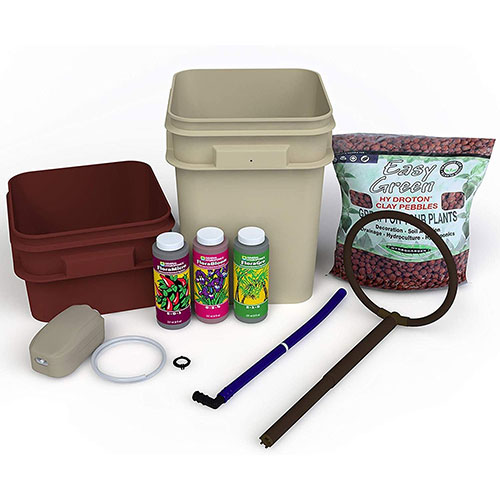 Simple system with easy set-up
This module includes outer reservoir, inner growing chamber, drip ring and pumping column
Eco Complete Power Grower
Grow small, medium, and large plants
Hexagonal design allows you to pack many units close together for large installations
Kit includes 5.7 gallon reservoir, 3 gallon growing chamber, air pump, pumping column, column support tube, drip ring, 1/2″ gromment, drain level tube, 9L of clay pebbles and 3 part Flora series nutrients
*Photos: Amazon
Ebb and Flow (Flood and Drain) – Hydroponics Growing System
---
Ebb and Flow is a form of hydroponic growing system that is known for its simplicity, reliability of operation and low initial investment cost. Pots are filled with an inert medium which does not function like soil or contribute nutrition to the plants but which anchors the roots and functions as a temporary reserve of water and solvent mineral nutrients. The hydroponic solution alternately floods the system and is allowed to ebb away.
Advantages of using Ebb and Flow hydroponics systems
Efficient use of water and energy: Excess nutrient solution recirculates
Highly customizable to your specific needs
Affordable
Disadvantages of using Ebb and Flow hydroponics systems
Possible technical failure can lead to quick drying out of Roots
Uses a lot of growing medium
Prone to Algae Growth
Recommended Ebb & Flow / Flood & Drain Hydroponic Growing Systems
Viagrow Complete Ebb & Flow Hydroponics System
Rapid, efficient growing of up to 25 plants in a small space
Automatic delivery of perfect amounts of water, oxygen & nutrients
Includes 50 L bag grow rocks, submersible pump, tubing, 25 – 1 gallon pots, timer 40-gallon reservoir, lid, white flood tray stand
Active Aqua Grow Flow Ebb & Gro Hydroponic System
Includes 12 pots (can be expanded to 48 pots) and a 55-gallon reservoir
Self-managing with pumps and timer
Automatic emergency shut-off valve safety feature
Aeroponic Cloning Machine
Complete flood & drain kit
Automated ebb & flo hydroponic system delivers perfect amount of water, oxygen, and nutrients
Multi-pin timer with 48 on/off daily settings and easy to use trippers
*Photos: Amazon
Nutrient Film Technique (NFT) – Hydroponics System
---
Nutrient film technique (NFT) is a hydroponic technique where in a very shallow stream of water containing all the dissolved nutrients required for plant growth is re-circulated past the bare roots of plants in a watertight gully, also known as channels.
Advantages of using Nutrient Film Technique (NFT) hydroponics systems
Minimal growing medium needed
Recirculating system means less waste
Excess nutrient solution recirculate
Good Oxygen Flow
Space efficient
Disadvantages of using Nutrient Film Technique (NFT) hydroponics systems
Pump failure of any kind can completely ruin your crop
Roots can become overgrown and clog the channels
Recommended NFT Hydroponic Systems
Rainforest 66
36 sites of net cup, no grow medium required
Timer controlled feed cycle can be intermittent or continuous and produces rapid plant growth
Includes frame, hose, pump, timer, tube, foam cube and net try for seed starting
NFT Hydroponic Grow Kit
Food grade PVC
Hybrid model: Can be used for Ebb and Flow (use a time controller) or a recirculating Deep Water Culture
Includes (1) holder and (8) Main Pipes; 72 planting sites; 110V water pump; planting sponge; 15.25ft hose
*Photos: Amazon

Wick – Hydroponics System
---
Wick Hydroponic Growing systems are one of the easiest hydroponic growing systems you can build and operate. This is the cheapest hydroponic system and are great for people who just starts with hydroponic.
Your system can have only five individual components. The way how wick hydroponic growing systems works is by sucking water and nutrients up from the reservoir to your plants, as they need it.
Advantages to using a wick system
A porous growing medium will increase oxygen absorption by your plants
Cheapest and easy system maintenance
Wick systems can be made from anything
Disadvantages of using a wick system
Slower Growth Rate
Larger plants will require oxygenation of your nutrients
Need to change your solution to keep nutrient levels constant
Possibilities of mold increases because the water is not circulating
Recommended Wick Systems
Kitchen Herb Kit – Three Self-Watering Indoor Planters
Passive wicking hydroponics system automatically brings water up to the roots
3 kits, each includes reusable glass mason jar, stainless steel net pots, grow medium coco pith, wick, nutrients and instructions
Eco-friendly materials, including organic basil, parsley and non-gmo mint seeds
SL1600200 Grow Light Garden
Simple bottom watering system employs a mat for capillary action
Sun blaster 6400K T5HO grow light simulates natural sunlight for cuttings and vegetative growth
NanoTech reflectors are included to increase lumen availability

*Photos: Amazon